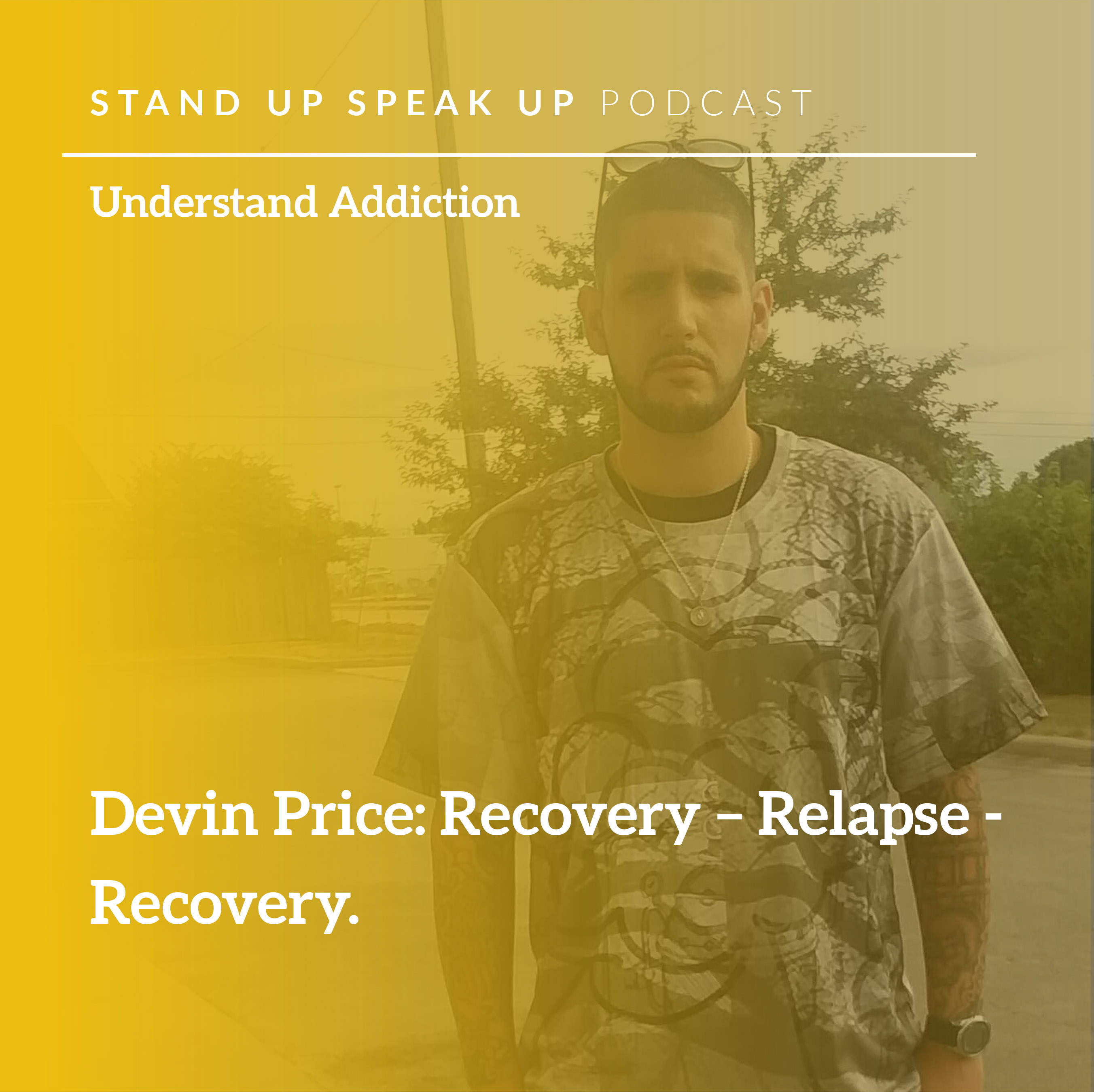 We first met Devin Price in Episodes 45 and 46 of the Stand Up Speak Up Podcast, when he took us through his road to addiction, becoming a drug dealer and pimp and his eventual arrest. After serving three years in prison, he had returned to his hometown to start over and we ended on an optimistic note with Devin getting a new job and restarting a relationship with his mother, Linda, who had also started her own recovery. 
In this follow-up episode, we speak with Devin after a relapse that put him back into rehab. He tells us how one bad decision lead to slipping back into the world of partying and drugs that he and Linda had both tried to leave behind. As Devin decided to check himself back into rehab, he began keeping an audio diary of his final days before entering treatment and the aftermath once he was released.
Devin's struggle is not over. He speaks to our host, Karla Stephens-Tolstoy, about trying to connect with his children, who have been put into the foster care system and are eligible for adoption. He also speaks to us about Linda's relapse and how addiction continues to affect all of the members of his family.
Share
Youtube:  https://www.youtube.com/user/TokiiTV
Instagram: @standupspeakupapparel
Facebook Support Group: https://www.facebook.com/groups/sususupportgroup/
Visit our Website: http://www.standupspeakupblog.com/
Browse the Store: https://www.standupspeakupapparel.com/
Credits

Executive Producer/Host: Karla Stephens Tolstoy 
Associate Producer: Jessica de Bruyn
Production Editor & Sound: Cesar Del Castillo
Narrator: Matt Cundill 
Receive our newsletter, contribute show ideas and feedback by emailing: karla.tolstoy@standupspeakup.ca
We want to thank Ascot Royals for the donation of this song, which speaks about overcoming adversity like that Devin has faced. Find their latest single, "Evil I Know" on iTunes, Spotify and places where music is sold.